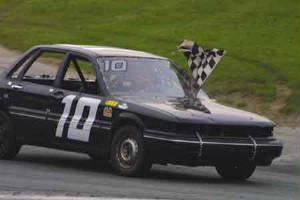 CLICK THE PHOTOS OR DRIVER NAMES TO CHECK OUT THEIR PROFILES!
Ron Barcomb in 1972
Although it wasn't officially organized until September 2004, Team Cite Racing has been a fixture in New England since the early 1970s.
Ed Companion
, Eddy's father, was a competitor in the Hurricane division at Thunder Road Speedbowl (Barre, VT) and the former Catamount Stadium (Milton, VT), and spent many years working on the championship cars of Late Model Sportsman driver Ron Barcomb. After limited success behind the wheel, Ed hung up his driving gloves until 1992, when he built his own Late Model to race at Thunder Road and Airborne Speedway in Plattsburgh, NY.

Ron's Ford Pinto in 1993
A year later, Ron St. Louis, Justin's father, began racing in the Street Stock division at Thunder Road after crewing for Scott Carpenter for a season, and finished 10th in points. Ed went into his second retirement from driving after 1993, and Ron continued through the beginning of 1995. Ed took on a major role on the Goss Dodge team of Brian and Doug Hoar, and the group won multiple ACT Late Model Tour Championships and countless feature races across New England, New York, and Quebec.
Eddy's first Street Stock
In 1998, Eddy began driving an AMC Spirit Street Stock part-time at Thunder Road, going full-time in 1999. Justin began racing in 2000, the year he and Eddy became good friends. Justin took his first career win that season, while Eddy grabbed his first win the next season in the biggest race of them all - the Milk Bowl. After missing much of June and July due to illness, Eddy beat out Dan Nolin and Brendan Moodie - who each won Street Stock championships at Thunder Road - for the victory in the fall classic. Justin also took a feature win that season at Airborne at the wheel of Eddy's #45 car, and finished 9th in points at the track, as well as 7th overall on the ACT Street Stock Tri-State Series.
Eddy with the Ed Carroll Award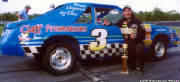 Justin's 2002 win
In 2002, Justin began the season with a win on Memorial Day at Thunder Road, and led the point standings at both tracks before falling out of the title chase after a hard crash at Canaan Fair (NH) Speedway. Eddy earned his second career win at Thunder Road, and took third in the Milk Bowl before finishing 12th in points. Justin ended the year 7th overall at Airborne. In 2003, Eddy served notice that he wanted the Thunder Road championship. In 18 events, he finished in the Top 10 twelve times, leading all drivers in all divisions that year. He would lose the championship on the final weekend due to a blown engine, but was later given the Ed Carroll Memorial Sportsmanship Award, the Street Stock division's highest honor. Justin stepped back from full-time racing, but ran in six events in the new Junkyard Warrior division. He took four Top 10s and finished 13th overall despite competing in less than half of the events that year.
Jason rolls The Can'
In 2004, Justin returned to full-time racing at Thunder Road in the Street Stock division, but was forced onto the sidelines before mid-season. After driving a car owned by Keith Fortier to four Top 10 finishes and a fifth-place standing in points, Justin was involved in a huge pileup and the car was destroyed. At the end of 2004, Justin purchased a Geo Metro, a car he had driven in the Warrior division in 2003, and Team Cite Racing was officially born. Jason Piche drove "The Fun Canister" Geo to a 13th-place finish in the Milk Bowl - AFTER recovering from a last lap flip!
Shawn's '04 Warrior
Now, in 2005, Jason has committed to driving in the Warrior division full-time along with new Warrior racer Alan Maynard, while Shawn Sicard will represent Team Cite in the Street Stock division. Shawn was a part-time Warrior competitor in 2004, and finished an impressive 3rd in his first career start. We look forward to adding the next page in the Team Cite Racing scrapbook, and wish Jason and Shawn the best of luck!
We also would like to wish the best for our racing friends this season, good luck in '05!
FRIENDS OF CITE!
Click here to see the progress of Team Cite Racing and the Friends of Cite!

DISCLAIMER: Many of the photos on this website have been used without prior permission, and for that, we're sorry. For the ones we did ask to use, thanks a ton! Proper credit is due every photographer, but since tagging every single shot would take a really long time, and we've forgotten a lot of who took what, let's just thank everyone who has "helped" out now: Alan Ward, Eric LaFleche/VLFPhotos.com, Gene Gagne/OutsideGroove.com, Leif Tillotson, Brian McCullough (RACEGOD), the late David Heath, Dave Brown, Cindy Weed, John Sullivan, Norm Marx, Bethany Bell, vintagemodifieds.com, the late Bob Doyle, Ron Pittsley, David Paris, Jim DuPont, Tom Herzig, and myriad others. A huge thanks goes out to contributors Andy Boright, the late Cho Lee, and Christian "Ti Gaz" Genest, all treasurers of racing history. You're all awesome and very much appreciated!!!
--- Website updated and maintained in memory of Cho Lee ---