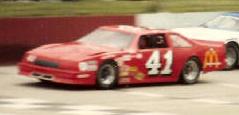 JAMIE AUBE TO CHALLENGE FOR ACT CHAMPIONSHIP IN 2007
Multi-time TD Banknorth 250, NASCAR champion to do battle with long-time rival Robbie Crouch
-by Justin St. Louis
Bow, NH - Veteran stock car driver and two-time TD Banknorth Oxford 250 Champion Jamie Aube of Bow, NH has announced that he will return to American-Canadian Tour (ACT) competition for the 2007 season. Aube, whose stock car roots were planted at the former Catamount Stadium in Milton, VT and sister track Thunder Road Int'l Speebowl in Barre, has purchsed the entire team of Strafford, NH driver Mike Collins and will make a bid for the ACT championship for the first time in 20 years.
"I'm back and I'm excited," said an enthusiastic Aube. "The original plan was to buy a car for the 250 at Oxford in July, but then we saw that the race was in line with ACT rules for 2007. My partner, Warren Emery, and I looked things over, I had a long talk with [ACT President] Tom Curley, and we decided that we're going to race the whole schedule. The cars are a lot different than what I've been used to and there's going to be a learning curve, but the rules package on the ACT Late Model Tour has made racing affordable and fun, and I like that."
The North Ferrisburg, VT native joins a long and established list of returning ACT veterans, including long-time on-track rival Robbie Crouch. During his final full season of ACT competition in 1987, Aube earned three victories, a staggering 15 top-five finishes in 20 starts, and closed out the season a tight second to Crouch in the battle for the championship. Learning that Crouch would also return to ACT in 2007 pushed Aube to make his decision. "We started talking about coming back before the news broke that Robbie would race this year, but hearing that he was coming out of retirement really got me going," Aube explained. "He's an awesome race car driver, and we had some really great races together. I'm looking forward to seeing him out there."
After making a name for himself in the Grand American division at Catamount and Thunder Road in the mid 1970s, Aube turned his attention to the traveling ACT Pro Stock Tour in 1979. Following four solid building seasons, he took his first career win in the prestigious Spring Green at Catamount in 1983. Three victories punctuated the 1986 season, and prepared Aube for the 1987 campaign that defined his ACT career.
During the 1987 season, Aube drew national attention and carried the ACT banner in the TD Banknorth 250 at Oxford Plains (ME) Speedway, taking the victory against a star-studded field of NASCAR drivers. Aube joined the Busch East Series (known as Busch North at the time) the following year, and caputred the series' championship in his first full year of competition there. He repeated his title-winning efforts in 1989 and 1990 as well, taking a second TD Banknorth 250 win along the way in 1989.
Following his championship years, Aube continued to race full-time on the circuit until 2003 when he made eleven starts in the Craftsman Truck Series, finishing 31st in overall standings. He rejoined Busch East in 2004, earning four top-tens and finishing 15th overall before serving as crew chief for NASCAR West Series driver Andrew Myers of Newport, California in 2005. The combination clicked, and Aube guided the youngster to wins at Phoenix (AZ) Int'l Raceway and Irwindale (CA) Speedway in 2006.
In addition to renewing his friendly rivarly with Crouch in 2007, Aube will square off for the first time against reigning six-time ACT Late Model Tour Champion Jean-Paul Cyr, perennial challenger Brent Dragon, and young guns Roger Brown and Scott Payea. Also returning to the ACT ranks with Aube will be Busch East veteran and five-time ACT Champion Brian Hoar. Aube knows that the competition will be tougher this season than ever before. "There are so many great drivers and teams on this Tour right now, I fully expect to go home unqualified from a race or two," said Aube. "It's possible that there won't be a single car that makes every race this year."
Aube said he is most looking forward to racing at places like Thunder Road and Sanair Super Speedway in Quebec. "People either love Thunder Road or they hate it, and I love it. I've had some great races there, and I'm finding out that I still have a huge following of fans there. Judging from the friends and family I've talked to in Vermont, there's a lot of enthusiasm about me coming back, even from the younger fans that haven't seen me race that much. It's the same way in Canada, too. I am a little overwhelmed to think that I made that much of an impact on people, and I'm excited to get back and say hello to all of my old friends. I've raced all over this country and I've had a great career. I'm racing ACT to have fun and win races, and that's what this series is all about."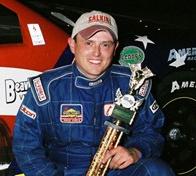 Fleury after a 2006 victory (ACT photo)
SHAWN FLEURY MOVES TO LATE MODEL DIVISION, EYES THUNDER ROAD GLORY
Sportsman Champion Wants to Learn From the Best
Middlesex, VT - Shawn Fleury has little to prove in Thunder Road Int'l Speedbowl's NAPA Tiger Sportsman division. After winning the intermediate Sportsman division's track championship in 2005 and 2006, Fleury will wheel an American-Canadian Tour (ACT) Late Model in the weekly Thursday night battles in 2007. Driving for veteran Wilbraham, MA car owner Scott Fearn, Fleury will have multi-time championship winning crew chief Jeff Laquerre of East Montpelier, VT turning the wrenches on his Vermont Army National Guard Chevrolet.
"I'm excited for this year," said Fleury. The 32 year-old Middlesex, VT driver was preparing to challenge for his third-consecutive Sportsman championship when the telephone rang with Fearn's call. "I was very surprised when Scott asked me to drive for him, I had never met him before. I felt very good that I'd made that big of an impression on him."
After five solid seasons as an upstart Tiger Sportsman racer, Fleury tried his hand in the headline ACT Late Model division in a family-owned car in 1998. He showed signs of brilliance while behind the wheel of a different Late Model car the following season, and nearly captured an upset victory at mid-summer. For his efforts, Fleury was nominated to the "Most Improved Driver" ballot at the season's end. Following 1999, however, a lack of funding kept him sidelined until 2002. Upon his return to the Sportsman class that season, Fleury earned a pair of wins and continued to set the pace through his back-to-back championship seasons.
"Shawn has shown both talent and tremendous discipline the last two seasons, having to start deep in the field each week and finishing races up front," said Fearn of his new driver. "He's patient when he knows he needs to be, and is aggressive when the time is right. Even though 2007 will be our first year together, I'm sure that Shawn can get the job done."
Fearn feels that having Laquerre's services will also benefit the team greatly. "After winning consecutive championships at Thunder Road, and very nearly a third-straight last year, I couldn't believe that Jeff had no plans for next year. This is a guy that has won championships with every driver he's ever been with, who leaves that deal?"
Fleury echoed Fearn's praise for Laquerre. "Being involved with Jeff Laquerre is a big advantage for any driver, he's going to teach me a lot."
"It should be a nice change of pace for Jeff and his guys to go to the track each week and have the support that Shawn and his family provide," Fearn continued. "He's the most talented mechanic in New England, and I feel lucky to have him on board." In addition to his work with Fleury, Laquerre will also maintain a Fearn-owned car to be driven by former Thunder Road champion Tracie Bellerose of Gorham, NH in selected events.
Fleury's 2007 campaign will be supported by the Vermont Army National Guard, Ultramar HomEnergy, and the Barre-Montpelier Times Argus, Central Vermont's leading daily newspaper. Additional support will be provided by Classic Auto in Montpelier, David Heath Photography, and ESPN Radio.
"I think with the support we have, and the combination of my family team and Jeff's crew, we should have a very good year," Fleury predicted. "I've never driven equpiment as nice as what Scott is providing me, and I think that after I re-adjust to the more powerful Late Model car, we will be a front-running team. I would like to win a couple of races, I don't think that that's out of reach."
For more information on Shawn Fleury, contact LC Race Media at (802) 343-6153, or by email at LCRaceMedia@yahoo.com.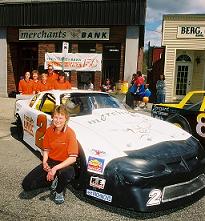 Bellerose in 2001 (ACT photo)
BELLEROSE RETURNS TO RACING ACTION IN 2007
Former Thunder Road "Queen" to run limited schedule of events
Gorham, NH
– After a three-year absence, former Thunder Road International Speedbowl (Barre, VT) "Queen of the Road" Tracie Bellerose will return to American-Canadian Tour (ACT) racing in 2007. Sidelined with an arm injury in 2003, Bellerose has made a full and unexpected recovery and will team up with champion crew chief Jeff Laquerre of East Montpelier, VT and car owner Scott Fearn of Wilbraham, MA to compete in select events next season.
Bellerose broke down barriers to become the first woman to win a Thunder Road feature event in 1998. Two years later, she was hailed as the track's Late Model division champion – the first woman in short track stock car racing history to win a championship in a "headline" class. Bellerose also has three feature wins on the competitive ACT Late Model Tour, and has made history at race tracks throughout New England and Canada.
"Right now the plan is to try and do five races," said Bellerose, "but I've got a feeling that once I get back in the car I'll catch the fever again. Maybe we'll do more events, who knows, but for now we'll start small."
Bellerose's tentative schedule will begin on April 29 at Maine's Oxford Plains Speedway. She will return to Thunder Road for the Merchants Bank 150 on May 6, followed by a June 9 event at Oxford Plains to prepare for the prestigious Oxford 250 on July 22. Her season concludes with the New England Dodge Dealers Milk Bowl at Thunder Road on September 30.
With Laquerre turning wrenches on her Late Model car in 2003, Bellerose nearly captured her second "Queen of the Road" crown before suffering a severely broken arm during a freak accident. Laquerre has since captured a pair of championships with driver Cris Michaud. Fearn, a veteran car owner and driver, has competed successfully on the ACT Late Model Tour with drivers Dennis Botticello and Tom Fearn. In his initial season with the Tour in 2004, Fearn and his team finished ninth overall. The team also captured a 50-lap race win at Quebec's Sanair Super Speedway (1.3km) in 2006.
For more information on Tracie Bellerose, contact LC Race Media at (802) 343-6153.