LATEST SITE UPDATES: 3/03/13 - Updated WMMP Late Model page.
SHAMELESS PLUG!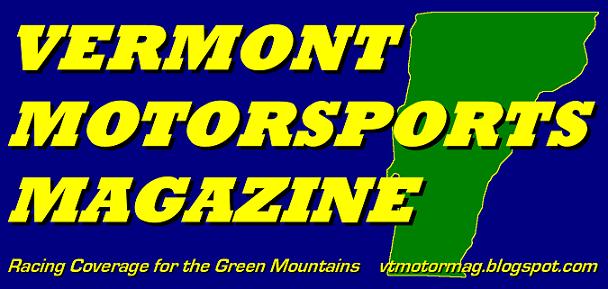 "FIFTY YEARS OF EXCITEMENT" NOW AVAILABLE!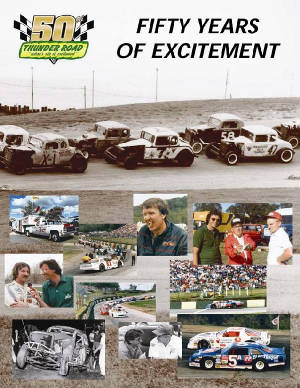 The new book honoring 50 years of racing at Barre's Thunder Road Int'l Speedbowl is now available for just $10! Written by yours truly with Dave Moody, the book is an all-inclusive look at the history of Vermont's oldest race track. Over 250 black-and-white and full-color photos! Click here for more information or to place an order!
Welcome to the home of the statistical history of northeastern short track stock car racing. The information on this website is strictly unofficial, and is always a work in progress. The statistics, facts, and any other information here have been compiled through years of research and dedication (with maybe a little touch of boredom), and help from many other people. The intent of this website is to preserve - and at times rediscover - the rich history of racing in our region, and to honor those that made it. Thanks for stopping by, and please, keep coming back! Things will be changing often as information is added, adjusted corrected, or whatever the case may be. PLEASE, by all means - if you have any piece of information (no matter how big or small) that you don't see here or think may be relevant, send it on over!
You will notice that most of the information on this website is centered in and around Vermont, and more is asphalt-related than dirt. Quite simply, Vermont is home to this website and is therefore held closest to the vest, and asphalt racing is the passion of its webmaster. We'll try to include as much as humanly possible as we continue researching everything.
Our state's racing history dates back to the end of World War II, beginning with Midget and Sprint Car races at fairground speedways in Rutland and Essex. Soon, the racing began to include jalopy stock cars at places like Bennington, Colchester, and Newport, spreading to St. Johnsbury, Burlington, Barre, and Milton. At one point, as many as 18 tracks operated in Vermont simultaneously, including four in Colchester alone! Some of the drivers that have come out of Vermont became locally, regionally, and even nationally recognized and respected: Beaver and Bobby Dragon, Tom Tiller, Ron Barcomb, Jean-Paul Cyr, Phil Scott, Jamie Aube, Kevin Lepage, Joey Laquerre, Johnny Gammell...
Unfortunately, economics, politics, and environmentalists have shrunk the racing scene to just three tracks, and the chances of another track ever opening here are next to nothing. So it is our job - as racers, fans, and lovers of the sport - to support what we have left - Devil's Bowl Speedway in Fair Haven (dirt - Sunday nights), Bear Ridge Speedway in Bradford (dirt - Saturday nights), and, closing in on its 50th season in 2009, Thunder Road Int'l Speedbowl in Barre (asphalt - Thursday nights and Sunday afternoons).
This website also covers the American-Canadian Tour, and is making every effort to preserve the history of New England, Canadian, and northeastern series like PASS, NEPSA, IPSC, NASCAR North, etc., past and present. Thanks for stopping by, and be sure to check out the links page and support the people that have supported this website!