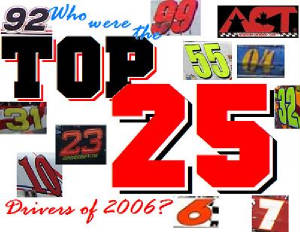 The NERSC Top 25 ACT Drivers of 2006
It's that time of year again – I take my "know-it-all" … uh, -ness… and put together a list of who I feel were the best 25 drivers racing under the American-Canadian Tour (ACT) banner during the 2006 racing season. To be eligible for this list, drivers must be considered "regulars" of ACT competition, which basically mean if somebody showed up to race with ACT more than once or twice, they were welcome. Competing divisions and series for this list included the ACT Late Model Tour, the Tiger Sportsman Series, and Thunder Road Int'l Speedbowl's four weekly divisions – Late Models, NAPA Tiger Sportsmen, Allen Lumber Street Stocks, and Power Shift Online Junkyard Warriors.
This year was a little different, though. With a lot of extracurricular activities going on in my life this summer, I didn't make it to as many races as I wanted to. So I called upon the troops to help me out, and asked a few folks to give me their Top 10 drivers for the year to aid in my decision making. Helping to make this list possible this season were the following very qualified individuals:
Bethany Bell –Thunder Road's #1 race fan
Gene Gagne – Racing photographer, owner and operator of OutsideGroove.com
"Lil Gene" Gagne, III – Thunder Road crewmember, former car owner and driver
Dave Moody – Thunder Road announcer, MRN Radio personality
Alan Ward – Team sponsor, racing photographer
Many thanks to you folks for your help this year, I hope I represent your choices well. Each driver's introduction line will include any Top 10 votes and any 1st-place votes received (my votes are included), and the number of times the driver has made the Top 25 list.
Without further ado, the Top 25 ACT Drivers of 2006…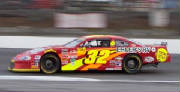 Justin St. Louis photo
1. Jean-Paul Cyr, #32 Ehler's RV/Sticks & Stuff Chevrolet Late Model.
(Top 10 votes – 5; First-place votes – 4; 4th Top 25 appearance)
Outside of Ben Rowe's sporadic appearances, Jean-Paul Cyr has been yet again the man everyone HAS to beat. Five-straight Top-7 finishes, including an opening day win at Thunder Road, were followed by a mid-season hiccup at Oxford and Seekonk. Cyr spelled "relief" W-M-M-P in 2006, as a win in the Kancamagus 150 at White Mountain moved him back into unreachable status for the rest of te season. Needing only to attempt qualifying for the Milk Bowl finale assured Cyr of his fourth-straight ACT Late Model Tour championship and sixth overall, and that's a good thing – a sprained wrist followed by a late-race flip left Cyr and his car a mess to end the year. Cyr's streak of four consecutive ACT championships moves him ahead of Robbie Crouch in that category and ties the mark set by Brian Hoar, while his sixth overall championship beats Hoar's mark and ties Crouch's. It would surprise absolutely no one anywhere if both records are broken in 2007… but with Hoar's eluding to the fact that he may return to the Tour, it may not be Cyr that breaks the records. Stay tuned!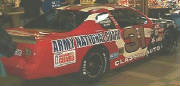 ACT photo
2. Shawn Fleury, #31 VT Army Nat'l Guard/VFW Montpelier Post 792 Chevrolet Tiger Sportsman.
(Top 10 votes – 5; First-place votes – 1; 2nd Top 25 appearance)
For years, Shawn Fleury was the guy that could probably make it sometime along. In 2005, that "sometime along" came with a track championship. In 2006, Fleury not only backed up what he did last year, but also pounded a be-all, end-all stamp on his place in the Thunder Road history books. Put this kid back in a Late Model where he belongs (he ran Late Models with some success in the late 1990s), and you'll really see something amazing.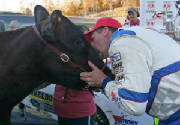 Leif Tillotson photo
3. Brent Dragon, #55 Kinney Drugs/Furniture World of VT/Beverage Mart Dodge Late Model.
(Top 10 votes – 2; 4th Top 25 appearance)
Brent Dragon can now rest quite comfortably on his laurels, as he has won each of ACT's five benchmark events. Having previously taken the Spring Green and Fall Foliage at Airborne Speedway and the Labor Day Classic at Thunder Road, Dragon grabbed the brass rings at the Memorial Day Classic and 43rd annual Milk Bowl this season, securing his place in New England short track history. Dragon again fell short of his long-awaited ACT Late Model Tour championship, but rest assured – he has nothing left to prove. A second-generation living legend.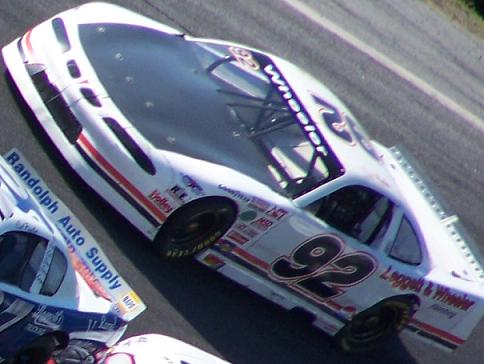 Justin St. Louis photo
4. Chad Wheeler, #92 Leggett & Wheeler Painting Pontiac Late Model.
(Top 10 votes – 5; 3rd Top 25 appearance)
Amidst rumblings of "stroking" Thunder Road's handicap system to aid in winning the championship, Chad Wheeler kept a quiet march going throughout the summer, and did just what he set out to do – become the "King of the Road". Regardless of what his critics suggest, Wheeler drove what was hands down the most consistent – and usually fastest – car in the pits every week, and earned his title by being a smart, smooth, and supremely talented racer. Those that know Wheeler know how badly he wanted the championship, and those that know Wheeler know that he is now a truly happy man. Congratulations to you, Chad Wheeler, enjoy your retirement.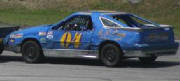 Gene Gagne photo
5. Eric Badore, #04 A.H. Fence/Milton Rental & Sales Dodge Street Stock/Tiger Sportsman.
(Top 10 votes – 5; 1st Top 25 appearance)
Eric Badore blew everyone out of the water this year, taking the Street Stock division championship with an astounding statistic of three wins and nine Top 5 finishes. As a side-bar, he also jumped from his front-wheel drive 4-cylinder car into a rear-wheel drive V8 Tiger Sportsman in selected events for the second straight year, and proved his worth in that class by passing two-time "King of the Road" Reno Gervais on the high side for a qualifying win. Look for big things to come out of Badore.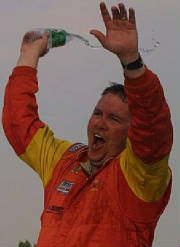 Gene Gagne photo
6. Ben Rowe, #10 White Mountain Motorsports Park/Avery's Sweeping Dodge Late Model.
(Top 10 votes – 5; 1st Top 25 appearance)
Running part-time for the Avery family, Benji has shown the ACT fans what Maine has known all along – he is the best race car driver of his generation in New England. His talent rivals that of even his legendary father, Mike, who is winning races and championships well into his fifties. If Ben could have conquered the Achilles heel that is his lack of Thunder Road experience, he would have been #1 on this list, no questions asked. Four wins in seven starts is nothing to scoff at, and you can bet he'll add to that total with Richard Moody's team in 2007.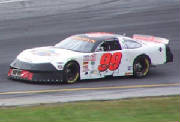 Justin St. Louis photo
7. Roger Brown, #99 Roger Brown Trucking/Central Asphalt Paving Ford Late Model.
(Top 10 votes – 2; 2nd Top 25 appearance)
For the first time since he began racing Late Models, Roger Brown raced every event on the ACT Late Model Tour schedule in his own car. It took the Rocket Man two full years to get back into the ACT winners' circle, but he finally did so at Seekonk Speedway in August of this year. Adding seven more Top 10s, including a runner-up finish at White Mountain a week after the Seekonk victory, Brown brought his rocketship home in fourth place overall, a career best. A solid, consistent season with no major interruptions was long overdue for this young gun, and he delivered.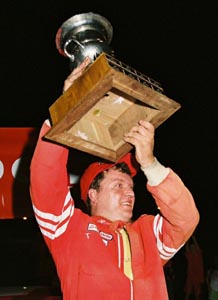 ACT photo
8. Eric Williams, #7 Unicel/Polow, Polow, & Mahoney/Ward's Systems Chevrolet Late Model.
(Top 10 votes – 3; 2nd Top 25 appearance)
No matter how heartbreaking it may be for some of the Thunder Road faithful, Eric Williams, as a result of his stellar 2006 season, will forever be remembered as a man that could win under pressure. This season, the controversy-sparking Williams battled flooding at his home, and still found time to win the Governor's Cup 100 and the $10,000-to-win Bond Auto Labor Day Classic 200. When you add in Williams' 2003 Milk Bowl victory, his prior Late Model wins, and his 1990s successes in the Tiger Sportsman division, his status is starting to border on legendary… like it or not.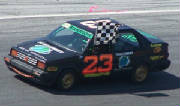 Justin St. Louis photo
9. Maynard Bartlett, Jr., #23 Power Shift Online VW Junkyard Warrior.
(Top 10 votes – 2; 1st Top 25 appearance)
The top Warrior this year is, to hopefully no one's surprise, Maynard Bartlett, Jr. Posting 11 Top 5 finishes, a pair of wins, and a victory in the "team" race, Mayne became the first driver in several years to clinch a Thunder Road championship before the final event. Bartlett has a smooth driving style that precious few Warrior drivers possess, and it could take him places in the future. A definite threat for which ever Rookie of the Year title he campaigns for in 2007.

ACT photo
10. Cris Michaud, #6 Merchants Bank/Burrell Roofing Ford Late Model.
(Top 10 votes – 3; 3rd Top 25 appearance)
An auspiciously slow start to the Thunder Road season by Cris Michaud was quickly turned around by a win late June – the first Top 5 finish of the year for the 6 crew. Michaud then rallied to boost himself into championship contention late in the year, and finished second behind three-year title nemesis Chad Wheeler. Will Michaud return to the dominant form that won him the 2001 and 2004 championships, or will he stay consistent like he was in 2005? On the other side of that coin, could he suffer through another slumping year like 2003? Surprisingly, Michaud has something to prove next season.
11. Pete Ainsworth, Jr., #80 Froggy 100.9 FM Ford Tiger Sportsman.
(Top 10 votes – 3; 2nd Top 25 appearance)
Seemingly always the bridesmaid, Pete Ainsworth has yet to put that magic combination together to rip off a championship, but he came close again this year. A feature win early in the year set the tone for Ainsworth's typically consistent and smooth season. Many feel that it's simply a matter of time before Ainsworth's fluorescently-colored Ford brings him the King of the Road crown.
12. Joey Laquerre, #15 Domino's Pizza/Laquerre's Marine Pontiac Late Model/Tiger Sportsman.
(Top 10 votes – 1; 2nd Top 25 appearance)
It's impressive when any driver can succeed in two types of race car in the same season, but when that driver is a 63 year-old one-man team, it's nothing short of amazing. Joey Laquerre became only the second driver in ACT history to win a feature event in two divisions in the same season, capturing his first Tiger Sportsman Series event at Thunder Road in June, and winning just three weeks later in his Late Model. Had he been given the chance, Laquerre would likely have seriously challenged Chuck Beede for the Sportsman Series title. Laquerre sauntered home second overall on the Sportsman Series, 10th on the ACT Late Model Tour, and 17th in the weekly Thunder Road campaign. In his spare time, Laquerre could be found racing at Ontario's Kawartha Speedway – an exhausting seven hours from his Central Vermont home.
13. Matt White, #42 Little League Excavating/White's Heating Chevrolet Tiger Sportsman.
(Top 10 votes – 1; 1st Top 25 appearance)
Where did Matt White come from? If you had placed a bet in 2005 that Matt White would be a championship challenger in 2006, you'd be doing pretty well for yourself right now. Entering the season, those odds were around 50-to-1 based on White's rookie season. If the second-generation youngster is capable of building upon what he did this year, get ready to crown a new Thunder Road champion.
14. Joey Becker, #16 Richard Green Trucking Ford Late Model.
(Top 10 votes – 1; 1st Top 25 appearance)
Another Late Model driver that was due to enjoy a solid, consistent season, old Berzerko Becker did car owner Richard Green proud in 2006. Although he went winless, Becker turned in strong runs on a nearly weekly basis, and it may be thanks in no small part to a hard crash at Circuit Ste-Croix in May. After getting a new Dale Shaw clip built on his car in record time, Becker went on a tear at Thunder Road. In fact, he did so well that the team decided to forgo their Tour plans and focus solely on the King of the Road title. While they came up short, they grabbed five Top 5 finishes and finished in fifth place overall, which is good for any team. Joey Becker's story gives a bit of inspiration to any kid looking to get into short track racing – start small, race a lot, practice and get better, and maybe one day your efforts will pay off for you. Becker has done that, and should be just as proud as Richard Green.
15. Kyle Tatro, #97 Tatro Bros. Concrete Contractors Ford Street Stock/Tiger Sportsman.
(Top 10 votes – 3; 1st Top 25 appearance)
In keeping with the unofficial tradition started by his fellow Lamoille County racers, young Kyle Tatro ruffled a few feathers in 2006. But along the way, Tatro also showed that he has some of what it takes to become a great racer. At just 17 years old, Tatro earned seven Top 5s and finished as the Thunder Road championship runner-up with his potent Street Stock, and also pulled off a 5th-place finish at the ultra-big, ultra-fast Sanair Super Speedway in his Tiger Sportsman car. Tatro, however, has sold his inventory and moved south to attend college.
16. Dave Pembroke, #44/#52 Trenchless Technologies/Twinstate Voice Data Chevrolet Late Model.
(2nd Top 25 appearance)
For the second year in a row, Dave Pembroke won the ACT Late Model Tour's Championship For Everyone That Can't Find A Way To Beat Jean-Paul Cyr. Pembroke turned in an excellent season with his Dave Storey-owned #52 car on the Tour, taking Top 5s at Ste-Croix, Sanair, Seekonk, and Thunder Road before finishing second to Cyr overall. Plagued by setup woes with his family-owned #44 Thunder Road car, however, Pembroke never really got to show his hand during most of the Thursday night season. A hard-fought win in the Casella Mother's Day/Father's Day event did little in the way of points, and Pembroke came home 10th overall (barely) at the end of the season. A strong 4th-place finish at Lee USA Speedway's Late Model National 100 in October has the Pembroke team looking forward to a fresh start next season.
17. Joel Hodgdon, #36 Watson Real Estate/Tofani's Used Furniture Ford Street Stock.
(2nd Top 25 appearance)
A strong campaign by high school basketball star Joel Hodgdon was highlighted by his first career win on Memorial Day weekend. While collecting seven Top 5 finishes with his Street Stock, Hodgdon also made the first starts of his NAPA Tiger Sportsman career at the helm of a Smitty McKay-owned Joe Steffen team car. Hodgdon impressed many with his quick adaptability, and is the early favorite for the Rookie of the Year title in 2007.
18. Bunker Hodgdon, #20 Hay's Service Station VW Junkyard Warrior.
(Top 10 votes – 1; 1st Top 25 appearance)
Like Maynard Bartlett, Jr. and so many of the dominant Warrior racers of late, Bunker Hodgdon hauls a battered Volkswagen out of the Lamoille County woods and puts on a great show for his fans. Hodgdon matched champion Bartlett's 11 Top 5s and even did one better in the win column with three victories, but his struggle with consistency kept him out of the championship. A move to the more talent-rich Street Stock division seems like the only logical thing for Hodgdon to do in 2007.
19. Mark Lamberton, #29 Jeffords Steel/Dragoon's Farm Equipment Chevrolet Late Model.
(1st Top 25 appearance)
It's the same story of a driver desperately needing a solid season from start to finish and pulling it off in fine style. One of the ACT Late Model Tour's veteran nice guys, Mark Lamberton represented the Empire State very well in 2006 and brought his car home in fifth place overall. Podium finishes at White Mountain in June and Lee USA in July, coupled with five more Top 10 runs kept Lamberton in view all year long, something that hasn't happened for him on the Tour until now.
20. Joey Polewarczyk, Jr., #97 Pole's Automotive Chevrolet Late Model.
(Top 10 votes – 1; 1st Top 25 appearance)
The popular 17 year-old Joey "Pole" really came into his own in 2006, and should be a shoo-in for the "Most Improved Driver" award at the ACT awards banquet. A surprising-but-not-shocking track record lap in Milk Bowl qualifying sent the media (this writer included) into a wordplay frenzy, screaming "POLE ON THE POLE" to the masses. Those that said the time trial was a fluke were eating crow at the end of the event, as Polewarczyk won the first segment and finished third overall. The youngster also finished in the Top 10 in both Oxford events as well as the season opener at Thunder Road. Another couple seasons' worth of consistent seat time, maybe some wins, and the marketable "Joey Pole" could realistically contemplate a move south.
21. Phil Scott, #14 Northfield Savings Bank/Formula Ford Truckland Ford Late Model.
(Top 10 votes – 1; 4th Top 25 appearance)
All in all, The Sailing Senator had another decent year, but he really needs to step up his game if he plans on regaining the form that turned him into a New England superstar. For the third straight year, Scott drops significantly on this list (2nd in '03, 8th in '04, 15th in '05), but yet remains a constant force in both the Thunder Road and ACT wars. In fact, despite a season that could be considered mediocre when compared to the rest of his career, Scott finished 7th overall in both campaigns and was the only Late Model driver to earn multiple wins at Thunder Road. …And that brings up the next point: When is Phil Scott going to kick the monkey off his back and win a Tour race? With the passing of this year's Milk Bowl, it has now been six full seasons since the #14 car was in Victory Lane in an ACT Late Model Tour event.
22. Chuck Beede, #53 Got Milk? Chevrolet Tiger Sportsman.
(Top 10 votes – 1; 2nd Top 25 appearance)
Entering 2006, everyone knew Chuck Beede would be the man to beat on the Tiger Sportsman Series. Now that the season is over and Beede is the champion, everyone was right. But everyone, including the veteran Beede himself, was disappointed with how the championship was won. Beede ripped off Top-6 finishes in each of the first four races and had the points lead firmly in hand… but then nothing happened. Races at Ste-Croix, White Mountain, and Airborne were cancelled, and the points were deemed final. "I feel like I didn't earn it," Beede said in ACT press release, "I'd much rather have won or lost it on the track." Regardless of how the schedule played out, Beede was definitely the man to beat in 2006 (and was just as good in 2005) – but let's see how it plays out for him next year.
23. Dennis Demers, #86 Shelburne Limestone Co. Chevrolet Late Model.
(1st Top 25 appearance)
Papa Dennis had a great year in 2006, finishing third in Thunder Road's Late Model championship chase, despite going scratch in the win column. The veteran's hard-charging style and willingness to pass on the outside allowed him to stay within striking distance of the point lead throughout the year. Demers also showed a lot of class during the Independence Day feature, running young upstart Marc Curtis and veteran Eric Williams like a gentleman, but leaving a couple donuts on their doors at the same time. Demers came up just shy in second as Curtis took his first career win, but his efforts earned him a standing ovation.
24. Nick Sweet, #50 Fortier's Community Care Home/Sweet's Service Chevrolet Tiger Sportsman.
(3rd Top 25 appearance)
For the first time in his young career, hometown racer Nick Sweet failed to finish second in points at Thunder Road. A devastating crash in July set Sweet back, forcing him to borrow a ride in a Joe Steffen team car while his machine was repaired, but not before a dominating win on the Tiger Sportsman Series at Sanair. Upon returning to the seat of his own car, Sweet earned a pair of victories, including a 50-lap win on Milk Bowl weekend. Even though his missed out on his familiar runner-up position, Sweet still made a big splash, finishing 4th overall on the Sportsman Series, and 7th at Thunder Road. Better luck in 2007 will aid in the youngster's quest to land a Late Model ride.
25. Joe Steffen, #00 Winooski Press/Northern Coal & Oil Co. Chevrolet Tiger Sportsman.
(3rd Top 25 appearance)
"Double-0 Joe" returns to the Top 25 list for the third time after missing the cut last year. More importantly, though, the former champion returned to the Top 5 in Thunder Road points after falling out of the Top 10 in 2005. Steffen grabbed the win on Memorial Day weekend and followed it up with four more Top 5 finishes throughout the season, including a runner-up showing to quasi-teammate Nick Sweet on Milk Bowl weekend. Steffen and car owner Smitty McKay went the extra mile for their competitors in 2006, lending help, parts, and even entire racecars to drivers in need, as Sweet and Street Stock racer Joel Hodgdon each took turns behind the wheel of a NO CO & O team car.
And now, the best 10 that didn't make it… (in alphabetical order)
Jason Bonnett, #79 Desorcie Emergency Products/Peoples Trust Co. Chevrolet Tiger Sportsman. The former Airborne champion finished third on the Tiger Sportsman Series in 2006, and almost certainly would have been on the Top 25 list had he run more ACT-sanctioned events during the year. Bonnett took second in the Spring Green at his home track, then earned Top 10 finishes at Thunder Road and Sanair before his season was cut short by cancelled races.
Trampas Demers, #85 Jiffy Mart Chevrolet Late Model. (Top 10 votes – 1) The decision to concentrate on Thunder Road events only was a good one for Trampas Demers, as he nailed down career win #3 in the opening Thursday night feature. Demers also had two more podium finishes in regular-season action, and then very nearly won his first ACT Late Model Tour race, finishing a close third in the Labor Day Classic in September. More consistency in 2007 will help elevate Demers into title contention.
Jamie Fisher, #18 S.D. Ireland Brothers Concrete Chevrolet Late Model. (Top 10 votes – 1) A feature win at Thunder Road (on Fisher/Federated Auto Parts night, ironically) helped the former "King of the Road" finish fourth in points. A heart-breaking loss at Oxford in July was somewhat solaced by a third-place finish there a month later, and a fifth-place run in the season-ending Milk Bowl placed Fisher ninth overall on the ACT Late Model Tour. Hopefully, the S.D. Ireland gang can push their yellow and red Monte Carlos a little bit harder in '07, and get Fisher back into championship-caliber status.
Chris Gendreau, #72 J&H Automotive/Duxbury AutoTech Pontiac Tiger Sportsman. Chris Gendreau had another good year in 2007, finishing fifth overall on the Sportsman Series and sixth overall at Thunder Road. A third-place finish at Sanair can be a feather in Gendreau's cap for quite some time, and five Thunder Road Top 5s are nothing to sneeze at, either. Early rumors have Gendreau's equipment headed to either Bill Sawyer's or Craig Bushey's shop, and have Gendreau himself either moving up or moving out. Hopefully, Gendreau moves up.
Chip Grenier, #7 Streeter Concrete/Thompson Chassis Chevrolet Tiger Sportsman. A two-win season for Chip Grenier prefaced a full-time switch to the Late Model division for 2007, as he purchased the entire championship team of Chad Wheeler. Grenier's season was up and down, however. While the highlights included the pair of victories, they were countered by several finishes in or near last place, including two of the three Series events he entered. So far, Grenier is favorite to win Late Model Rookie of the Year honors at Thunder Road.
Rich Lowrey, #8 Imagistics/FYE/Benoure/Fox 44 Dodge Late Model. A strong start and a very strong finish book ended Lowrey's tough mid-season. A scintillating duo of performances to end the year kept race fans thinking that Rich Lowrey could eventually win a championship some day. Could that day come in 2007?
Scott Payea, #89 AC Sports/Wendell's Furniture/Newman Associates Ford Late Model. While he trailed off just a bit from his "Wonderboy" rookie season last year, Scott Payea was no slouch in 2006. Two strong performances at Thunder Road (2nd in the Merchants Bank 150 opener, 4th with a segment win in the Milk Bowl) kept the Chris Companion-led team in good spirits, while Top 10 finishes at White Mountain and Oxford helped Payea finish sixth overall on the ACT Late Model Tour.
Tom Therrien, #48 Scudder Parker for Governor/Autoworks Chevrolet Tiger Sportsman. Former go-kart racer Tommy Therrien earned two feature wins at Thunder Road in 2006. Unfortunately for Therrien, those wins were his only visits to the Top 5, and his struggling consistency kept him from finishing higher than 8th overall.
Ryan Vanasse, #11 Team V Transportation Chevrolet Late Model. (Top 10 votes – 1) Usually traveling the farthest of any ACT Late Model Tour competitor, Vanasse began to come into his own on the Tour in 2006. While he still was unable to shake the setup gremlins and bad luck that plagued him the year before, Vanasse also had bright spots in May at Thunder Road, as well as during the middle of the summer at Oxford and his home track at Seekonk Speedway, turning in consecutive Top 5 finishes. A solid start-to-finish performance is coming out of Vanasse, just wait and see.
Robin Wood, #61 Ganienkeh Territorial Bingo Chevrolet Tiger Sportsman. Running the same vein as Jason Bonnett, Robin Wood would likely have made the Top 25 list had he been given a chance to defend his Tiger Sportsman Series championship of 2005. A second win in the Spring Green at Airborne was complimented by a Top 10 finish at Sanair before the season was cut short. In the mean time, Wood ran well in selected regular-season events at Airborne, earning a feature win in July.
Drivers receiving Top 10 votes:
Pete Ainsworth, Jr.
David Allen
Eric Badore
Maynard Bartlett, Jr.
Joey Becker
Chuck Beede
Roger Brown
Doug Crowningshield
Jean-Paul Cyr
Jamie Davis
Trampas Demers
Brent Dragon
Jamie Fisher
Shawn Fleury
Bunker Hodgdon
T.J. Ingerson
Patrick Laperle
Jay Laquerre
Joey Laquerre
Skip Liberty
Cris Michaud
Joey Polewarczyk, Jr.
Ben Rowe
Phil Scott
Kyle Tatro
Ryan Vanasse
Chad Wheeler
Matt White
Eric Williams
PAST FEATURES
Justin's Top 25 ACT Drivers of 2003
Justin's Top 25 ACT Drivers of 2004